New 735 kW MAN E3872 gas engine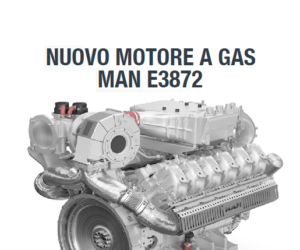 Dear customers,
We hereby inform you that MAN Engines presented its new E3872 series 735 kW mechanical gas engine at the Biogas Convention & Trade Fair in Nuremberg.
Provided in the Special and Natural Gas variants, the new spark-ignition four-stroke gas engine is based on the well-proven 25.8-liter V12 engine series E3262 but has an increased displacement of 29.6 liters thanks to a bore increased from 132 to 138 mm and an increased stroke from 157 to 165 mm while maintaining the same compact dimensions with high power density that have always characterized all MAN engines.
To achieve this significant increase in power while maintaining the 12-cylinder mechanics, the engineers of MAN Engines have adopted new solutions and innovations: in addition to the mentioned increase in displacement, both a new single turbocharger and new steel pistons have been introduced and the combustion process and cylinder heads have been updated.
The mechanical efficiency rate in the Natural Gas variant in 50 Hz operation has been increased to 44.0%, a result that leads to a noticeable increase in profitability.
An increase in power but also a reduction in maintenance obligations: in fact, new heads have been introduced on the new engine equipped with a hydraulic valve clearance adjuster, which therefore makes regular checking and adjustment of the tappets unnecessary.
The supercharged Natural Gas variant of E3872 reaches values ​​of 250 mg / Nm3NOx (5% O2), while the Special Gas version 500 mg / Nm3NOx (5% O2), easily lowered to the limits of 100 mg / Nm3 NOx (5% Ox ) using an SCR exhaust gas treatment system.
We take this opportunity to extend our best regards,
The ETS After Sales Staff
ETS – Engine Technology Solutions
          Official importer of stationary MAN engines
          Original spare parts MAN
          Biogas and diesel engine service